As we are closing in on having a full field of fifty anglers for the 2021 Champions Tour presented by Skeeter Boats, we are excited to highlight some of the new anglers that will be joining us as we kick off the season in June and work our way towards September's Championship, where one Champions Tour angler will be walking away with a brand-new Skeeter Boat/Yamaha Outboard package!
Luke Gillund –
While attending Bemidji State University to receive his degree in Marketing Communication, Gillund was a member of the Beaver's fishing team for all four years and served as the team's president during his senior year. During his four years of angling for the Beaver's, Luke qualified for four National Championships and locked up three top-ten finishes.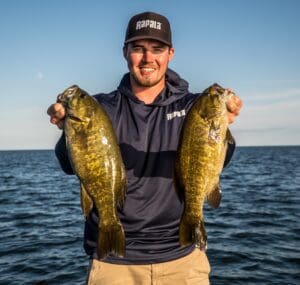 "With this being my first year back home, not fishing college tournaments, I am really looking forward to fishing the Champions Tour," said Luke. "I have never fished in a tournament with this format, but I am excited for this fast-paced style of fishing."
Ty Hill –
Ty has been bass fishing his whole life and has fished high school series events for the past four years at Osseo high school, along with competing in club tournaments.
"I've been a boat official for the Champions Tour the past two seasons and I'm very excited to be on the other side of the scale this year."
Ross Kellermeier –
We welcome another Bemidji State Fishing Team angler to the Tour for 2020. Ross fished for the Beavers from 2014 to 2018 and qualified for the Bassmaster National Championship one of those years. Last season Kellermeier fished the Bassmaster Open Central Division as a co-angler.
"I have never competed in a catch-weigh-release format, but I am excited for the challenge," said Ross. "The intensity of this fast-paced format is something I'm looking forward to experiencing."
Mike Ulik –
Mike started fishing at a young age, and while growing up would attend weigh-ins on the lakes in western Wisconsin, where his cousins were fishing tournaments, this is when he knew that he wanted to compete as well. Since 2009 he has fished many local circuits and events in Minnesota and Wisconsin and has been eyeing up the Champions Tour since he finished 7th in the Gull Lake Open in 2018. Mike missed out on qualifying for the Championship by one spot with that finish.
"The scheduling for me finally lines up for 2021, and I am looking forward to the exciting and fast paced format that I was a part of on Gull Lake," said Mike. "I love that you always know where you are at in the standings and what you need to move up the leaderboard."
Hunter Wendt –
Hunter will be graduating from Pequot Lakes High school in May and is an avid outdoorsman, from outdoor sports, hunting to his true passion is bass fishing, he enjoys being on the water and loves to fish competitively. He has been fishing the various high school circuits since 2016 and has over 25 top-ten finishes, including three wins, including being the 2016 TBF/FLW Minnesota state BASS Champion.
"Fishing is in my blood; I have been fishing since I was three years old and have been looking forward to competing at a higher level for years," stated Hunter. "I am super excited to have the opportunity to fish the Champions Tour this year and compete against some of the best sticks in Minnesota."
Charlie Wright –
Charlie Wright or to many known as "Biggtime," graduated from high school in 2020 and signed on to fish at with the University of Montevallo fishing team. Last year his partner and him had an awesome year on the Student Angler Tournament Trail, with a 2nd, 4th and 9th place finishes that earned them the Team of the Year title. They then followed that up with a 2nd place finish at the TOC on Mille lacs.
"I am super excited to try my luck on the Champions Tour and can't wait to compete in the every fish counts format," said Wright. "From what I've heard it is a lot more stressful and mentally exhausting. My goals for the year are to win an event, I know it's going to be tough competing against some of the best in the Midwest, but I feel I can make a name for myself on the Tour."
We will continue to highlight our new anglers over the coming weeks. And if you are thinking about joining us on the Champions Tour this season, don't delay!