The pages of any fishing retailers catalog or website, or photos in a fishing magazine will be filled with clean, crisp and colorful photos of the new innovative crankbait on the market or the countless colors and shapes soft plastics available.  These are also the baits that anglers, both recreational and tournament, credit when they have a great day on the water.
But the heroes and workhorses behind the scenes to any fishing lure or rig are the terminal tackle components that are used and selected by the angler.  When it comes down to it, a crankbait is a crankbait and a soft plastic worm is a soft plastic worm, what makes the difference many times in getting bites and more commonly getting a bass into the boat are the small detailed terminal tackle selections an angler makes.
The hook is obviously the key terminal tackle item that when sharp and strong it puts bass in your boat, when it is dull and weak, it causes you heartache and a ruined fishing memory.  Selecting the right hook for the situation is key when fishing a soft plastic bait, as it will aid in the action of the bait and more importantly the successful hooking up of that bass.
If a bass angler is looking for one hook to always have in their tackle box, the extra wide gap hook would be a good all-around choice.  Keeping it in sizes from 1/0 all the way up to 5/0, allows an angler to match the hook size to the size of the plastic bait being used.  These hooks are available in standard light wire version, as well as a heavier magnum wire, needed when you are using braided line.
You want to use a hook that will not impede or alter the baits action in anyway, while still using a hook that has plenty of space for the plastic to move when the hook is set so a solid hook up is accomplished.
If you are a diehard bass angler and do a lot of fishing with soft plastics, then you'll want to expand your hook selection to fit the needs of other soft plastic lures.  Some of those hook options include…
Flipping Hooks: Used when making short flips or pitches to heavy cover, this still hook increases an angler's hook up ratio greatly and feature a small piece of plastic, like the TroKar Barb on the TK130 Flippin Hook, near the hook eye to keep the soft plastics in place as it falls through the dense cover.  Having flipping hooks to fit the size plastic you are flipping is also important, so having hooks from 3/0 up to 6/0 is important.
Tube Hooks: Have a very large gap, so these bulky baits have room to move and get a solid hook up.
Drop Shot Hooks: Small octopus style hooks that allow the bait to stand straight out when drop shoting.  Depending on the size of plastic you are using and the clarity of the water a 1, 1/0 or 2/0 hook common size selections.
The progress that crankbait manufactures have made over the last few years in supplying high quality treble hooks on their baits has grown somewhat, but the practice of replacing these stock treble hooks with high-quality treble hooks is a very common practice by tournament and avid bass anglers alike.
There are commonly two types of treble hooks on the market, an extra wide gap model and a round bend model.  Anglers will commonly develop a personal preference for one style or they may like to employ a certain style for certain baits.
Like the hook, the weight is the second key terminal tackle item, for without it, your Texas-rig or Carolina-rig would never hit the bottom of the lake.  For many years, lead weights were the only choice for anglers.  Now there are various metals that are used for making fishing weights, which an angler can choose from.
Besides being better for the environment, these high performance metals allow an angler to use a larger weight, while still maintaining a low profile.  For example, a ½ oz tungsten worm weight is around the size of what a lead worm weight would be.  A good selection of tungsten worm weights, ranging from ¼, 3/8, ½ and ¾ oz, should be neatly organized in a small Plano Stowaway as the sizes can commonly be confused.
When Carolina-rigging, many anglers still like to use a brass weight, as the sound it makes when bounced against a bead is one bass go crazy over.  A few brass weights in 3/8, ½ and ¾ oz will keep you ready at all times, should the C-Rigging bite be hot.
Now for some of the smaller terminal tackle items that anglers may not think about when stocking their tackle box for next fishing season.
Beads: used primarily for Carolina-rigging, some anglers put between their weight and hook on a Texas-rig though.  Plastic beads can be bought in bulk from craft stores.
Swivels: the key connecting link between your main line and leader on a C-rig.  Using a premium ball bearing swivel eliminates line twist and keeps that link a strong and reliable one.
Split Rings: An extra strong split ring is a good choice when connecting your treble hooks to crankbaits or topwater plugs.  Size #3 is most common.
Bobber Stops: Found in the terminal tackle aisles next to the bobbers, these small pieces of plastic are great for putting in front of your sinker when flipping a Texas-rig around heavy cover.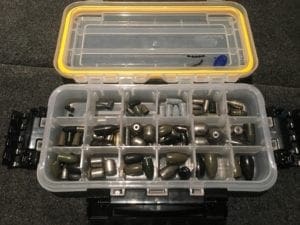 As you begin to browse the aisles of your favorite fishing tackle retailer or scouring the internet tackle shops, don't forget to stock up on the key terminal tackle items that will help make your 2017 fishing season a great one.